The Blessed Virgin Mary dictated her message in the late 1990s and it was published in book form in 2001. The story of how it all came about is part of the Preface of Mary's book.

Allan Schulte is a graduate of the University of Notre Dame and has had a life-long closeness with Mary. Allan and his wife, Marcia, were married at the University of Notre Dame in 1971. Allan and Marcia have two daughters, and three grandchildren.
Mr. Schulte received Mary's message in daily increments, starting each morning and continuing for one hour. Mary did not want Mr. Schulte to type the message into a computer as she dictated it to him. She insisted that it be taken down in longhand, and so it was hand-written.
Several major U.S. publishers saw Mary's book and were very impressed. But they did not choose to publish it because of the difficulty of "positioning" it in today's book market. A close follower of Mary, Donna Sweeney, of Boston, Massachusetts, heard the call, and realized that the book had to be shared with all of Mary's friends worldwide. Donna Sweeney came up with the money to publish Mary's book.
The book has been well-accepted, not only in the United States, but all around the world. The Mary Gardens and Mary Evening classes that Mary requested have sprouted up all around the world.
About Mr. Schulte's Professional Background:
After receiving Mary's Message of Love, Mr. Schulte experienced a radical shift in careers, and found himself in the newer field of energetic healthcare and healing.
Mr. Schulte spent the first 32 years after his graduation from Notre Dame in the area of communications. He was with BBD&O Advertising, the Boston Globe newspaper, and served as a video producer for cable television in the areas of food, travel and art.
After being the scribe for the Mary book, Mr. Schulte began to see the need for alternative ways of healing. Mr. Schulte went to California in 1999. He studied and gained his certification in the field of bioresonance and biofeedback. He trained in San Diego, at New Hope University, and did additional training in neurofeedback in California, Mexico, and in Budapest, Hungary
Allan Schulte founded Quantum Wellness Center in 2000, and Lotus Stress Relief in 2008. Mr. Schulte is currently the president and director of Lotus Stress Relief Center in Sarasota, Florida. The center is one of the leaders in the field of energetic medicine and stress relief in the United States.
As mentioned above, Mr. Schulte is a graduate of the University of Notre Dame in South Bend, Indiana where he earned a degree in Communications. He holds a degree in biofeedback from the Quantum Life Institute in California.
Mr. Schulte has been involved in the development of biofeedback, bioresonance, and neurofeedback as a way of relieving stress so that the body can heal itself naturally. Allan often calls on Mary for help in his healing work.
The Schulte family helps individuals to learn the newly developed field of stress relief. They train and help certify individuals in biofeedback. They coach individuals on how to set up their own practices in healing, biofeedback and stress relief. Students come to them from the United States, Canada and from around the world.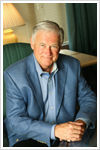 Allan Schulte
Director, Lotus Stress Relief
www.lifesystems.us
www.lotusstressrelief.com